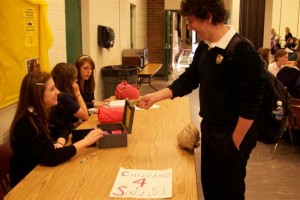 During this semester NHS has seen an uptick in unexpected, but welcome, requests for student volunteers; and while we are more than happy to accommodate any requests, there is some basic information we need in order to expedite your requests.
Also, please keep in mind, that while Ms. Pittel & Mr. Lilek are more than happy to send out a Sign-Up Genius to the NHS students regarding your request, we can neither make students sign up or 100% guarantee all of them showing up (though the vast majority of them do show up). In addition, remember that NHS students are teenagers, and therefore any request that requires quality work or specified knowledge should be handled more deliberately than basic busy work requests (i.e. setting up chairs).
Please provide the following information to Michelle Pittel or Kyle Lilek with any future requests:
The exact number of students you need
Date(s)
Start time & end time
Location
Supervisor (we are not supervisors for these requests)
What they'll be doing
For example: "10 students on 11/15 from 4-6 pm in the Gym to set-up chairs for Super-Duper Event with Mrs. So-and-so."
We do not require unessential information pertaining to the activity/event. Although any requests that overlap with the school day or school day activities need to go through Fr. Joe first.
Also, please remember, that the earlier we get this information, the earlier we can get it out to students, and the more likely more students will sign up. Making requests for something that happens later in the day or the next day is impractical, and while we'll honor those requests, past experience tells us that students will not sign up for volunteer work that's sent out at the last minute.
---
The National Honor Society (NHS) is the nation's premier organization established to recognize outstanding high school students. More than just an honor roll, NHS serves to honor those students who have demonstrated excellence in the areas of Scholarship, Leadership, Service, and Character (and Citizenship for NJHS). These characteristics have been associated with membership in the organization since its beginnings in 1921.
NHS membership not only recognizes students for their accomplishments, but challenges them to develop further through active involvement in school activities and community service.
Membership is open to students in grades 10-12 and is based upon the student's record in scholarship (minimum cumulative GPA of 3.75), service, leadership and character.
Moderators: Mr. Kyle Lilek and Ms. Michelle Pittel
LINKS
NHS Handbook 2019-20
NHS Candidate Packet
By-laws